Emporium Hotel Southbank Brisbane
Location
May 2020
Date
Glass & Glazing
Category
Architects Australia-wide are Specifying Larger, Heavier Glazed Sections. Apex Facades are Tackling the Challenge with Extreme Measures.
Operating nationally, Apex Facades is a company renowned for tackling glass installations requiring a unique skillset and go above and beyond – sometimes literally. In a heart-stopping recent assignment resembling Mission: Impossible, the Apex Facades team lifted a 500kg glass panel by helicopter over Brisbane's CBD, carefully lowering the massive sheet onto a 21-storey roof.
Apex Facades are the leaders in the industry for achieving success on the most complex projects in Australia. Andy Gennings and Mitch Haskard, Co-Directors of Apex Facades, tell all.
Let's rewind …
It all started when we received a request from South Brisbane's Emporium Hotel,' says Andy, at Apex Facades. 'They had a large glass sliding door for their semi-frameless rooftop bar, with a broken panel. Due to its immense size and the bar's inaccessible location, they were unsure how to proceed.'
The panel in question is a monster. 'It's a little under 4m high by 2.5m wide – half a tonne worth of glass,' says Andy. 'We floated a couple of options – including using a mobile crane or fitting the panel by rope access, but each proved impractical. We often deal with glass panels lifted on soft rope systems coupled with portable winches, but this was too costly and inefficient in this scenario. The other option was a mobile crane, but we would have needed a 330-tonne crane to reach the 21st storey, costing at least $200K – prohibitive for this type of task.
Having worked extensively with aerial crane helicopters in the past, we decided that lifting the panel to the roof of the hotel with a helicopter would be the most efficient and cost-effective way to make sure the job was done safely,' Mitch reveals. 'Lifting it by helicopter ended up being the most economical and efficient method, even with all the necessary regulatory approvals, despite having to close the main street of one of Brisbane's busiest tourist areas.
Apex quickly got the insurance company on board. 'Floating the concept of flying a helicopter over a building certainly resulted in an interesting conversation,' Andy remembers. 'But it only took one person to say that it sounded like a good idea for us to get that green light.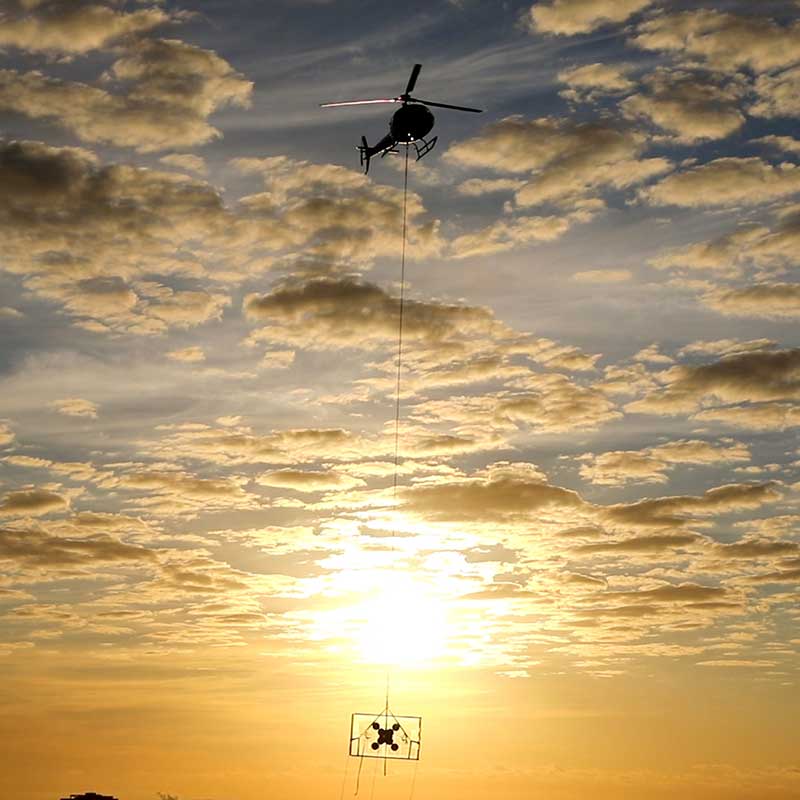 The Apex riggers conducted multiple test lifts of the glass prior to the lift day using an 800kg glass lifter with 2500kg SWL back up straps. This ensured the panel would have the correct lifting position and flight characteristics we needed whilst it was airborne.
On the day the schedule was executed to the minute with each Apex operator having prepared for this extensively,' notes Andy. 'The panel was lifted from River Quay Green in the Southbank Parklands and once our riggers were satisfied with the load being secured it was flown safely and smoothly to the roof of the hotel'
The results are clear. 'From proposing the job to executing it took around eight months of planning,' says Andy. 'We could probably have had it all done in six, but then the COVID-19 hit – social distancing was yet another consideration in an already massive list!
Unexpected circumstances helped the team. 'We had to obtain plenty of permits – including CASA,  Brisbane City Council, Queensland Police, Southbank Corporation, Translink and Queensland Rail,' Andy says. 'With businesses closed due to COVID-19, shutting down a city block worked in our favour.
The feat began one morning, watched by a rapt audience. 'We evacuated the first 4 floors of several residential complexes within the flight path with a couple of thousand people watching,' says Mitch. 'The helicopter flew for an hour, with only 15 minutes from lifting the panel from the parklands to placing it on the hotel roof – but we did eight months of planning to prepare for that crucial 15 minutes.'
A floor crane was then used to install the glass, meaning the whole task was over in a couple of hours. 'That's the first glass panel lifted by helicopter in Brisbane that we know of, and it couldn't have gone any better,' Mitch affirms.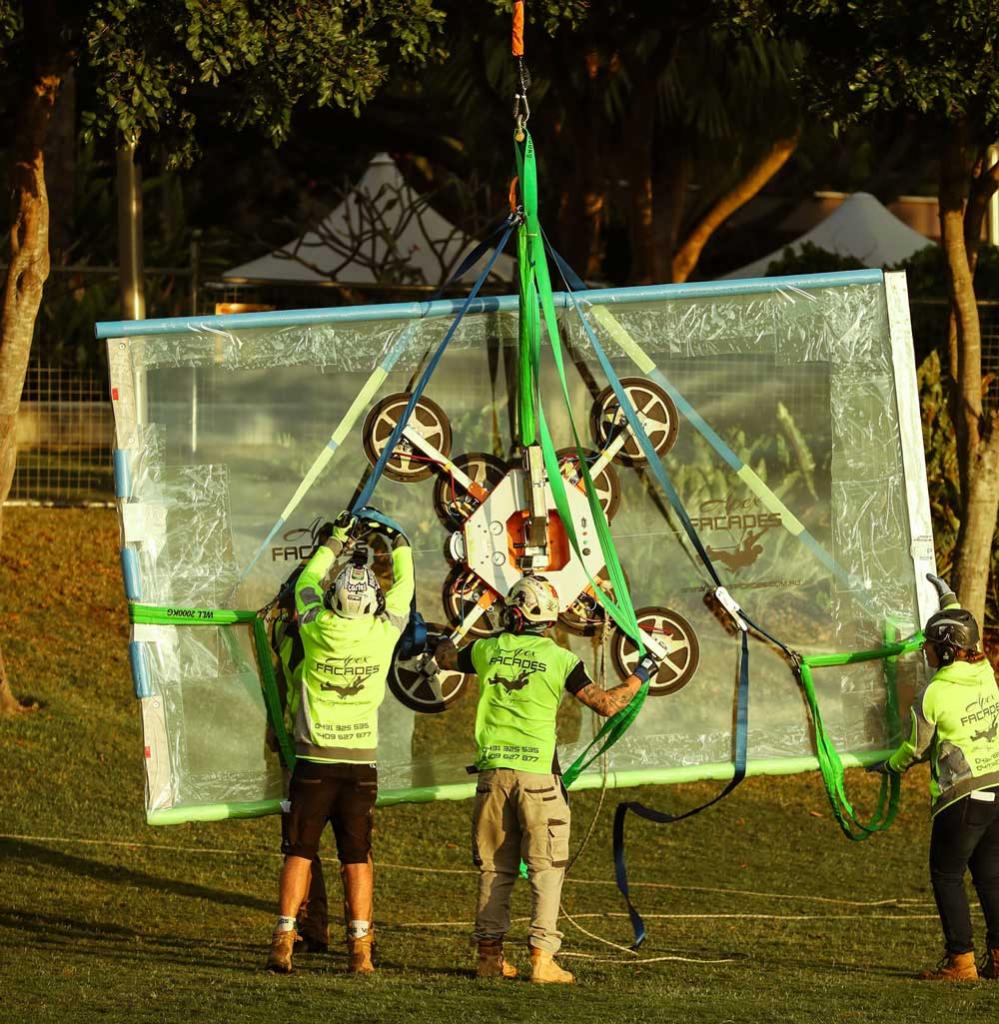 The renowned dependability of our team was crucial in this high-stakes task relying on absolute precision. 'The client had been trying to find a solution for months and had not been successful in finding a suitable contractor,' Mitch remembers. 'With the job successfully completed and our client delighted we were very proud of our team to have made an incredible project happen.
With such dedication to their craft, the crew at Apex are deservedly proud of this achievement. And by flourishing in such a high-demand situation the team's unrivalled industry skills and experience ensured their success.
APEX FACADES specialise in working at heights, in the installation of new glazing systems, general maintenance on high-rise buildings and complex glazing rectification works.
Got a project in mind?
Get in touch with the vertical professionals for all your speacialised construction needs.
Get a quote